Singerman & Post

Live Vibrantly.
Feather Light & Comfortable.
Feather Light & Comfortable.
Who Are We?
At Singerman & Post we believe in artistic design and exploration. The custom design process of our jewelry has evolved over 30 years and continues to evolve as we discover new ways to bring art, color, and vibrant design to jewelry. The jewelry originated with designs by Leni Singerman, and now continues with her husband Terry Post, daughter Cleo Post, and niece, Eliza Singerman Wapner. Assembled and hand-crafted with care and skill, it's a family business through and through!
Read More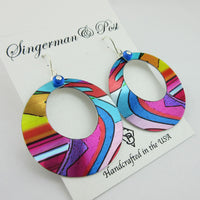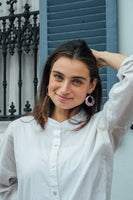 What are They Made Of?
Singerman & Post jewelry uses a custom lamination process of original artwork laminated by hand several times onto brushed metalized layers of mylar and vinyl with a waterproof lamination finish. The earrings are then hand cut and assembled with czech glass beads and sterling silver ear wires. They are lightweight, incredibly comfortable, vibrantly colorful, and shimmer in the light.
Read More About Our Process
Testimonials
"I'm one of your biggest fans! You made me a pair of beautiful earrings, the highlight of my day, month, year! They're so shiny and new! I love them very much. Thank you very much! I have your business cards which I will hand out when they ohhh and ahhh over my earrings! All your hard work is very much appreciated!"

Christy Florin Chanterny
"My fourth pair of earrings arrived several weeks ago; now compliments abound! I love them."

Sandra V.
"I've purchased at least a dozen pairs of your earrings for my wife over the last couple of years. I think you make the absolute coolest earrings! I found you online and plan to continue buying them. You make a great product at a great price. I know my wife will love the two pairs I just purchased when she opens them Christmas morning. Thank you so much and Happy Holidays!"

Drew B.
"I love it when we get a fresh batch of your newly designed earrings and they start flying out the door again!"

Liza, Bowdoin College Museum of Art, Wholesale Client